This was an opportunity to show the community how public spaces, green space, and good programming can bring people together and strengthen communities.

Matt Young, President & CEO
As is becoming tradition, I like to take time before the holidays to do a post mortem on our year, and reflect on the amazing accomplishments and challenges that we experienced.  Unlike last year though, we are still in the trenches overcoming one of the biggest challenges of my career, which I'll speak on in a little bit.
2021 started with a high level of optimism.  We had just submitted our application to the city at our Scarborough Junction project and were beginning to engage more regularly with the local community and other stakeholders.  As the biggest vaccination program in human history took shape, we were forced to answer a unique question. How do we engage in a meaningful way with the local community while also being conscientious of COVID-19 and making people feel comfortable? In previous years, we may have built an engagement centre or set up public meetings in a Church basement to allow the community to ask questions and gather input. Somehow that seemed a little out of touch in 2021.
I've had this idea for a long time and have always been passionate about food, where it comes from, and the idea that our buildings can help create a more sustainable society. At Scarborough Junction in particular which is in the middle of one of the largest food deserts in Toronto, it made perfect sense. We decided to build a community farm on a large yard we had beside one of our industrial buildings. This was an opportunity to show the community how public spaces, green space, and good programming can bring people together and strengthen communities. It also supported the needs of the community, and did it in a COVID friendly way. While we were thinking about this, friends of mine introduced me to Suman Roy, the Executive Director of Feed Scarborough (The Scarborough Food Security Initiative). He was looking for a new home for his food bank. After our first discussion we both realized how much in common we had. We both cared deeply about the Scarborough community, and wanted to make an impact. We both understood that the best partnerships are synergistic and that corporate partners can amplify the work non-profits are doing. We ended up forming a partnership that has become one of the highlights of my year. It started with us donating roughly 10,000 square feet of space to Feed Scarborough to house their food bank, and grew quickly into Feed Scarborough becoming our partners in building and operating the Scarborough Junction Community Farm. In our first season, this farm has produced over 400 lbs of produce from 23 different crops, all of which were indigenous to regions that represent the different ethnicities of people from Scarborough. The harvested crops were used to support the four food banks Feed Scarborough runs, a healthy meal program (soup kitchen) and a farmers market. In total, over 300 families benefitted directly from the farm which we hope to increase in 2022. We also used the space to host various events, including the launch, urban agriculture week, a Halloween haunted house, and a Christmas market, and have made the farm available to local non-profits and community groups to host events they have, free of charge. To add some icing on the cake, we partnered with Bee Local 416 to create an apiary on site. We currently have four bee hives housing approximately 120,000 honey bees, with plans to expand this further in the spring. We expect to begin producing local honey in 2022 which we are all excited about!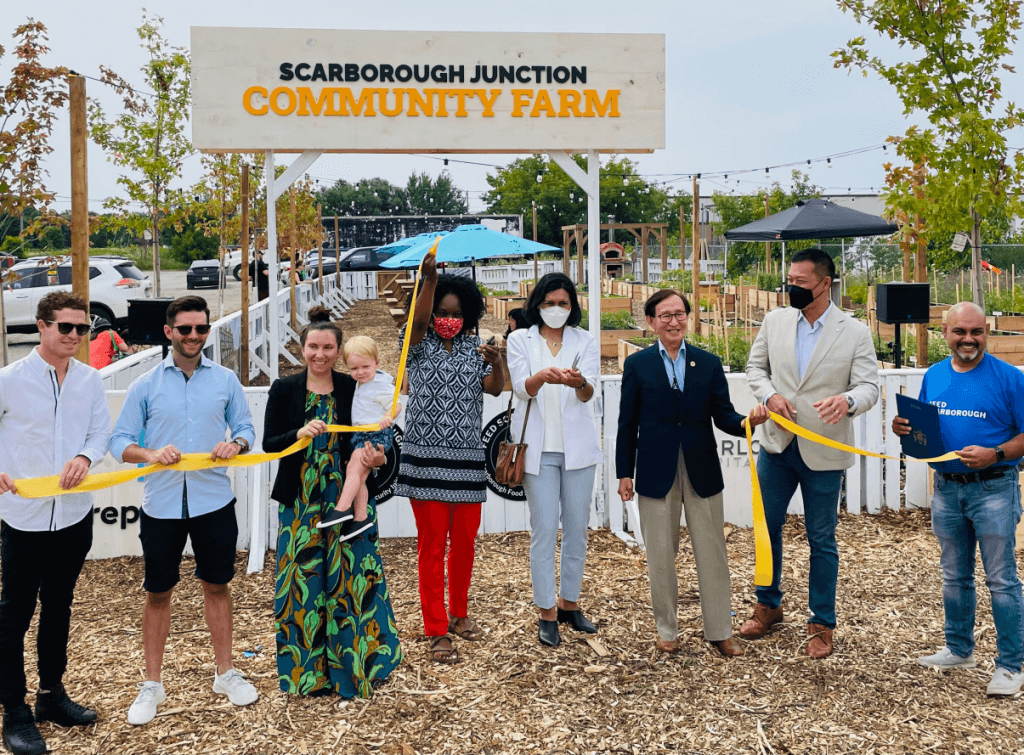 While Scarborough Junction was moving along, we were beginning to look for new development sites to help fuel our growth. New deals come from a lot of places, but the best ones come from meaningful relationships, where there is a level of trust and genuine desire to work together. In the middle of summer by either fortunate or unfortunate coincidence (I'm still deciding on this one!) we added 6 new development sites to our portfolio, representing approximately 2.7 million sq.ft of additional GFA. It's funny how timing works sometimes, and in hindsight it would have been nice to spread these out but this is the sort of thing that keeps us on our toes! All of these sites are partnerships with land owners that we've built trust and respect with over time. As I mentioned earlier, we are in the trenches rushing to get these applications in before the year ends in order to get in front of rapidly changing city policies, so details will emerge in early 2022 which we are excited to share. While I wish we had more time, our team are all proud of where these six applications are starting and are confident that through engagement with with the local community and city staff they will get even better through the entitlement process. I would never recommend anyone take on this many new projects at once. This has been one of the biggest business challenge of my career, but the thing that I believe most defines our company is having an ability to execute at the highest level when we are under extreme pressure. These last few months have been a real testament to that. Qualities like perseverance and tenacity are ingrained in our culture, and every team member we have contributes to this, and reinforces it to the market every single day. Speaking of our team, they have been an unshakeable force in pushing our projects along in 2021. We hired 4 new team members over the last 6 months who have all stepped up to the challenge and delivered when we needed it. We couldn't have accomplished what we have this year without them.
As I close this out for 2021, I'm really struck by how lucky we have been, and that has given us an opportunity to think about how we can start giving back corporately. We supported 7 different charitable or non-profit initiatives big and small this year which is a number I'm very proud of. From small things like charity bike rides, to sponsoring a Toronto based cycling team (Shout out UNC!) to larger initiatives like sponsoring and raising money for the Hold Em For Life charity challenge, and even volunteering with SHN on their first major fundraising campaign. This is an area of our business we care about growing, and have some exciting plans of our own for 2022 which we look forward to sharing in due course.  We are going into 2022 with a lot of momentum and a lot of new and exciting opportunities on the horizon. We hope everyone who reads this had their own successes in 2021 and we wish you all health and happiness going into 2022.
Sincerely,
Matt Young
President & CEO, Republic Developments Inc.
2021
By The Numbers
New Communities: 6
Homes Under Developments: 10,000+
Hotel Suites Under Development: 138
GFA Under Development: 8,200,000 sq.ft
New Hires: 4
Charitable Initiatives: 7
New Tenants: 120,000 (of the buzzing variety)
Community Spaces: 1 new community farm
Public Art: 1 new public art installation